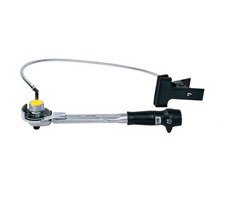 Product Description
WQL100N4 Torque Wrench
Application Features

WQL model is most suitable for small lot production, maintenance and after service where
angle method is adopted, and also used as back up tool for angle method nut runners.
Snug torque can easily be preset.
From the snug torque point to the required tightening angle can directly be read by the
angle dial. Or, by setting the angle pointer to the required angle after the snug
torque reaches, then, continue tightening until the pointer reaches zero on the dial.
Efficient tightening by ratchet up-to the snug torque. The angle dial does not move
until the snug torque reaches.
Since the standard clip is alligator type, it is easy to place the clip on the adjacent
assembly. A magnet type is also available.
This wrench can also be used as a standard micrometer adjustable torque wrench.
Applicable to use in the EU region. Comply with calibration procedures of ISO6789
Type II Class A.

Specifications

The capacity value in are minimum setting
value for snug torque, but this value is not within guaranteed accuracy range.




Enter Buying Requirement Details
Other Products in 'Tohnichi Click Type Torque Wrench' category